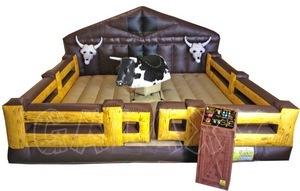 Mechanical Bull
Mechanical Bull Rental
The Deluxe Mechanical Rodeo Bull is a real Wild West Adventure! Safety is paramount so the Deluxe Mechanical Rodeo Bull is fitted with our unique Automatic Stop System (ASS) as standard. As soon as the rider falls, the bull stops instantly. No spinning after the stop button is pushed like some machines on the market. One of the many reasons we are the safest mechanical bull operator in the world.
The Deluxe Mechanical Bull control console is housed in a console which looks like an old wooden crate to complete the theme. There are six pre-set automatic competition levels which are linked to the LED time clocks. In addition there is also a BEST TIME clock so everyone can see the time to beat. The Auto Stop Sensor comes as a standard.
Easy
Medium
Hard
Greenhorn (competition for beginners)
Cowboy (Competition for Experts)
Ambush
Each one of the automatic Rodeo Bull programs is linked to the two LED digital time clocks giving the current time achieved so both the operator and the rider can see how long the rider stayed on the bull; there is also an additional LED clock on the rear of the showing the best time of the night so far; this is perfect for competitions.
If generator is needed to power the bull. The Honda 6500 will need to be booked as well.