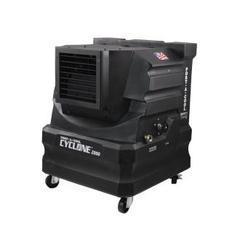 Port-A-Cool 3000
Cyclone 3000 Port-A-Cool Rental
Perfect for Spot Cooling 700 sq. ft.!
Adjustable louvers and easy roll casters — perfect for spot cooling.
The Port-A-Cool Cyclone 3000 is perfect for cooling areas up to 700 sq. ft. using just tap water and 115 volt. Fill continuously with a water hose and use the water adjustment valve to adjust for humidity.
Air Delivery: Up to 3000 CFM
Cooling Capacity: 700 sq. ft.
Water Tank: 16 gallons
See larger Images: