Austin Texas Event Rental Pros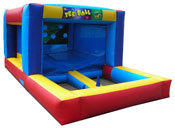 Tee Ball Game
Dimensions: 13ft x 10ft x 8ft
Outlets:
Monitors:
Batter-up! Time for Tee-Ball
In our version of Tee-ball, the ball floats in the air and you hit it into the backdrop and it will be returned back to you in a pocket through a channel in the return system. The ball floats because of a cone that shoots air for the ball to float on. The whole game runs on a blower fan and it comes complete with the balls, bat, blower, and the inflatable.
See larger Images:

Copyright © . Bounce Around Austin Inc. All rights reserved.