Austin Texas Event Rental Pros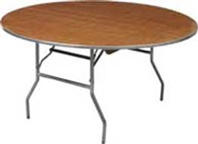 60 inch Round Folding Table
Dimensions:
Outlets:
Monitors:
60 inch Round Folding Table
Table top is 3/4" plywood of a minimum 11 ply board with no splices, voids or plugs. Both sides of top shall be stained a medium oak color then PolyCoat finished with a thickness of 3 mils on top and 1.5 mil on bottom surfaces.

Wishbone style folding legs are constructed of US steel with full welds on 16 gauge 1" tubing and 11 gauge stamped steel brace. Detent leg locks secure in the fully open and fully closed positions. Complete leg assembly is cleaned with industrial cleaner for rust resistance and superior paint adhesion. Baked-on polyester powder coating has outstanding toughness, excellent weathering properties and a smooth appearance.

Copyright © . Bounce Around Austin Inc. All rights reserved.