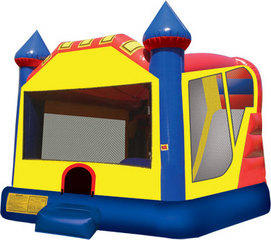 The Wet Fort
"The Fort" Wet Combo Bouncer
This 4-feature challenge is jam-packed with fun, offering a generous area of jumping area, basketball hoop, climb and slide. Inter-changeable art panels featuring your favorite, timeless characters and themes, adds versatility and 'play value'! Accepts both medium and large art panels.
Bright and lively "The Fort" offers more fun per square foot than any other! These units are built Ninja Tough! Super durability and safety are built right into each and every one from materials to workmanship and quality control.
Approved for use with water.
See larger Images: